$875+/mo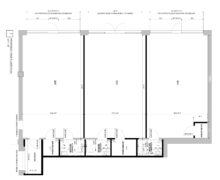 VIEW FLOOR PLAN
PROPERTY DESCRIPTION
Be the first to put your stamp on one of these newly renovated retail storefronts! The latest additions to the Canyon Run Complex, each 2214, 2216, and 2218 S Jefferson will provide an affordable, efficient, and blank canvas for your new or burgeoning business. Each space features all-new interiors within a historic context. Hit the ground running with your business in this pre-finished space, no build-out required! Neighbors in the immediate vicinity include a variety of artists and makers at 2222 S Jefferson, as well as Milque Toast and Fritanga, and the neighborhoods of McKinley Heights and Fox Park offer numerous destinations and attractions.
We encourage and give preference to small, independently-owned businesses that cater to a wide range of demographics and will contribute to the eclectic mix of existing small businesses in the area. We don't rent to predatory businesses such as rent-to-own or payday lending stores that prey upon low-income populations. Additionally, we discourage the use of first-floor storefronts in commercial corridors for service-oriented or office-type businesses, which are better suited to side streets or second-floor office spaces as they do not benefit from or contribute to an increase in foot traffic that is vital to retail and restaurant businesses.
This building was renovated to historic standards as part of the Historic Preservation Tax Credit Program. Compliance with the program requires that these standards be maintained, and as a result, permissible tenant alterations are limited; the space is eligible for retail use only, and is not suitable for use as a bar, restaurant, salon, barbershop, or any other use that would require modification of the existing plumbing plan. Read up on the history of the building here!
Pricing starts at $875/mo for rent plus $75/mo for water & sewer. Commercial tenants arrange and pay for their own trash service. Lease lengths of 12 and 24 months will be available.
Amenities
Tile Floors
Accessible Unit
Central Air Conditioning
Forced Air Heat
All Electric Unit
New Roof (<5 Years)