South Side Spaces is committed to providing affordable housing without sacrificing quality. The historic renovation at 2755 Chippewa features high-quality finishes like solid oak flooring, stainless steel appliances, and granite countertops in addition to an array of amenities including an access control system for guests and deliveries, in-unit laundry for each apartment, and a bike room. The building is all-electric with Energy Star elements like appliances, which means efficient systems and low energy costs. Four of the seven residential spaces are offered at affordable rates.
What is affordable housing?
Affordable housing is a type of housing that has been determined to be affordable to those at or below a certain median household income. Such determinations are typically dictated by the national or a local government, with rates based on housing affordability indices.
In the case of 2755 Chippewa, the affordable rental rates and accompanying income limits that determine eligibility are determined by the U.S. Department of Housing and Urban Development (HUD). Through the HOME program, HUD provides grants to state or local governments as a way to increase affordable housing opportunities for low-income individuals. South Side Spaces was awarded such a grant by the St. Louis City Community Development Administration (CDA), the funds of which made this rehabilitation possible.
Do I qualify?
In order to determine whether you qualify, you'll need to look at the annual income of every household member. HUD defines a household or family to include one or more individuals who live together; they do not need to be related by blood, marriage, or in any other legal capacity. Essentially, any person who would reside at the apartment should be considered as part of the household. Documents like W2s, 1099s, pay stubs, and tax returns are helpful in this process. To qualify for the affordable rental rates at 2755 Chippewa, the total household income must be at 60% or less of the St. Louis Area Median Family Income (AMI).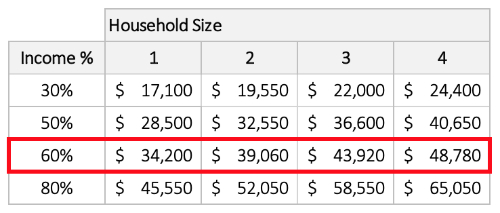 For example, the income threshold for a family of 3 individuals is equal to or less than $43,920.
What are the rental rates?
For 2019, HUD has set the rent limit for a 1-bedroom unit at $713/mo, and a 2-bedroom unit at $915/mo. Each rent limit includes a utility allowance, which is evaluated annually by the St. Louis Housing Authority (SLHA). The utility allowance includes charges for electric, water, sewer, and trash. At 2755 Chippewa, the utility allowance is set at $192/mo for a 1-bedroom unit, and $227/mo for a 2-bedroom unit.

What are the next steps?
Ready to apply for an affordable apartment? Great! First, reach out to us to confirm that affordable rate apartments are still available or submit a rental inquiry on a specific property.
Second, have every adult applicant fill out a rental application. Each application is considered on a case-by-case basis. When we process an application, we are looking for a few key things:
That you have been a good tenant in the past (provided this is not your first rental). In general, that means that you have paid your rent on time and have no past evictions.
That you have acceptable credit. Your credit does not have to be perfect!
Third, include with your application or send us an email with the following documentation for income verification. We don't mean to pry – we just need to make sure we are in compliance with HUD's program!
The most recent year's tax return, W2(s), and/or 1099(s)
Your two most recent pay stubs; if you have more than one employer, please provide two pay stubs from each
Two months of recent bank statements
If you don't qualify for an affordable rate, don't worry – you may still be eligible to rent a space at market rate.
Questions?
When in doubt, feel free to contact us and we'll help walk you through the process!