$1,045/mo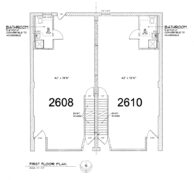 VIEW FLOOR PLAN
PROPERTY DESCRIPTION
Unique opportunity to expand or launch your business in this prominent retail location on the coveted 2600 block of Cherokee. This 840-square-foot storefront offers an abundance of space with details like hardwood flooring, high ceilings, and basement storage. Experience the best of South City in a growing community; surrounding businesses and amenities generate a ton of foot traffic, and events and festivals keep the street vibrant and active year-round. Neighbors include Mesa Home, Saint Louis Hop Shop, Teatopia, Brandin Vaughn Collection, Apotheosis Comics, SoJeffRetro, and Your Friend's Apartment – all on the same block!
We encourage and give preference to small, independently-owned businesses that cater to a wide range of demographics and will contribute to the eclectic mix of existing small businesses in the area. We don't rent to predatory businesses such as rent-to-own or payday lending stores that prey upon low-income populations. Additionally, we discourage the use of first-floor storefronts in commercial corridors for service-oriented or office-type businesses, which are better suited to side streets or second-floor office spaces as they do not benefit from or contribute to an increase in foot traffic that is vital to retail and restaurant businesses.
Price is $1,045/month for rent plus $100/month for water and sewer. Tenant is responsible for trash, internet, and electric charges. The advertised rental rate reflects a $75/mo discount for paying rent via ACH / wire transfer on the first of the month. Metered street parking available on Cherokee and Jefferson.
Amenities
Hardwood Floors
Central Air Conditioning
Forced Air Heat
All Electric Unit
Additional Storage Space
On Street Parking
New Roof (<5 Years)