$3,750/mo
Parking
Off-street parking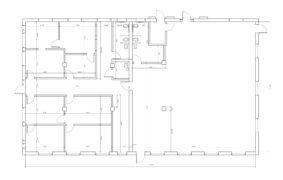 VIEW FLOOR PLAN
PROPERTY DESCRIPTION
The Bakers Union building located at 2615 Winnebago Street was built in 1951. For over sixty years, it housed the headquarters of their St Louis branch: Local Office #4 of The Bakery, Confectionary, Tobacco Workers and Grain Millers (BCTGM) International Union. The building was suddenly vacated in October 2015 when a catastrophic roof collapse left the property unusable. After a roof drain was clogged, water began to accumulate on the flat roof. The weight became so extreme that an enormous steel beam on the north side of the building suddenly failed, resulting in over six inches of standing water throughout the whole building.
In August 2016, South Side Spaces began the process of demolition and clean up. With the debris and roof remnants removed, the potential of this midcentury structure begins to unfold. Situated on over half an acre, the 4,000 square foot building is comprised of eight office sized spaces and one large open room. The possibilities for the future of this space are numerous and promising. Read more about the renovation here!
Price is $3,750/month. Tenant is responsible for arranging service for electric, gas, water, sewer, and trash prior to occupancy, and paying for these services directly to the utility providers. The advertised rental rate reflects a $150/mo discount for paying rent via ACH / wire transfer on the first of the month.
Amenities
Balcony, Deck or Patio
Fenced Yard
Off Street Parking
On Street Parking