$1,025/mo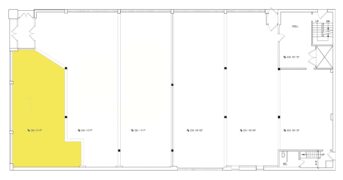 VIEW FLOOR PLAN
PROPERTY DESCRIPTION
Prominent retail space with 40 feet of window frontage on Cherokee Street! Located at 2626 Cherokee in the former Globe Drug building, this space is located just west of Jefferson near dozens of other thriving businesses. This location provides visibility and convenience, with high foot traffic and an abundance of parking (including a city-owned lot adjacent to the building). Architectural features include polished concrete floors and exposed brick. Other notable residents in this building include local businesses such as Mindflowers, Urban League, Clements Lock & Security, and Screwed Arts Collective; neighbors include Mesa Home, Teatopia, Brandin Vaughn Collection, SoJeff Retro, Your Friend's Apartment, Saint Louis Hop Shop, Nebula, and Fortune Teller Bar (just to name a few!) – all located within a block!
We encourage and give preference to small, independently-owned businesses that cater to a wide range of demographics and will contribute to the eclectic mix of existing small businesses in the area. We don't rent to predatory businesses such as rent-to-own or payday lending stores that prey upon low-income populations. We discourage the use of first-floor storefronts in commercial corridors for service-oriented or office-type businesses, which are better suited to side streets or second-floor office spaces as they do not benefit from or contribute to an increase in foot traffic that is vital to retail and restaurant businesses. Additionally, in the interest of promoting a peaceful environment for adjacent tenants in our mixed use and multi-tenant buildings, we do not rent commercial spaces to businesses that produce significant odors, chemical or otherwise; this includes but is not limited to nail salons, hair salons, and the manufacturing of any scent-based product (candles, perfumes, etc.). If your business is one of these uses, please join our waitlist for a standalone building.
Price is $1,025/month for rent plus $80/month for water and sewer; internet is available for $100/month. Tenant is responsible for trash, gas, and electric charges. Charge for water & sewer may be higher for some business types based on actual water consumption. The advertised rental rate reflects a $75/mo discount for paying rent via ACH / wire transfer on the first of the month. Free parking is located in the City-owed lot to the rear of the building, and metered street parking is available on Cherokee and Texas.
Amenities
Concrete Floors
Exposed Brick
Central Air Conditioning
Forced Air Heat
Additional Storage Space
On Street Parking