$800/mo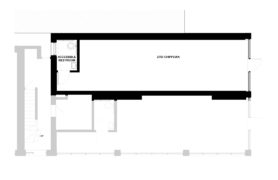 VIEW FLOOR PLAN
PROPERTY DESCRIPTION
When South Side Spaces acquired the building, this storefront was bright pink and full of problems. "Open concept" took on a new meaning with an enormous hole in the floor where the roof had collapsed three stories above. Fluorescent lighting, broken windows, and exposed floor joists added to the unfortunate decorating motif.
Four years later, and this space is problematic no more! With the renovation complete, it is ready for a new tenant to call home.
This storefront offers an abundance of wall space along with 12′ ceilings. All systems and finishes in this all-electric space are new, including HVAC, plumbing, and solid oak hardwood flooring. Hit the ground running with your small business in this pre-finished space, no build-out required!
We encourage and give preference to small, independently-owned businesses that cater to a wide range of demographics and will contribute to the eclectic mix of existing small businesses in the area. We don't rent to predatory businesses such as rent-to-own or payday lending stores that prey upon low-income populations. Additionally, we discourage the use of first-floor storefronts in commercial corridors for service-oriented or office-type businesses, which are better suited to side streets or second-floor office spaces as they do not benefit from or contribute to an increase in foot traffic that is vital to retail and restaurant businesses.
This building was renovated to historic standards as part of the Historic Preservation Tax Credit Program. Compliance with the program requires that these standards be maintained, and as a result, permissible tenant alterations are limited; the space is eligible for retail use only, and is not suitable for use as a bar, restaurant, salon, barbershop, or any other use that would require modification of the existing plumbing plan.
Price is listed at $800/month for rent plus $70/month for water & sewer. Security deposit is equal to $800 subject to credit and application approval. The advertised rental rate reflects a $75/mo discount for paying rent via ACH / wire transfer on the first of the month.
The building at 2755 Chippewa has undergone a full renovation. From the ground up, every element of each unit has been re-built resulting in a unique blend of modern amenities in a historic space. Learn more about the project here!
Amenities
Hardwood Floors
Tile Floors
Energy Efficient Thermal Windows
Accessible Unit
Central Air Conditioning
Forced Air Heat
All Electric Unit