$865/mo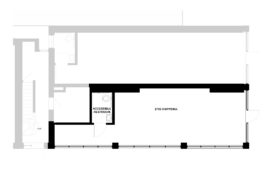 VIEW FLOOR PLAN
PROPERTY DESCRIPTION
Over the past 100 years, this building has played host to a variety of occupants. The longest-standing tenant was Harold's Tavern, which occupied the 2755 Chippewa storefront from the 1940s through the 1970s. In 1947, proprietor Harold Plachek was hailed for winning the corkball title for the tavern's team. In 1949, Harold Brose, a patron of Harold's Tavern, was arrested for making "unnecessary noise" by playing a juke box. Just one year later, the neighbor space at 3746 California was the site of an alleged lottery press calamity, where Harold Blumenthal was accused of running a $1,300,000-a-year weather lottery ring out of the space at 3746 California.
What's next? You tell us! Although preferably none of the aforementioned things. Bonus points if your name is Harold.
This prominent corner storefront boasts nearly 65 feet of window frontage and 12′ ceilings. All systems and finishes in this all-electric space are new, including HVAC, plumbing, and solid oak hardwood flooring. Hit the ground running with your small business in this pre-finished space, no build-out required! Due to the historic nature of the renovation, this space is not suitable for use as a bar, restaurant, salon, barbershop, or any other use that would require modification of the existing plumbing plan.
Price is $865/month for rent plus $75/month for water & sewer. Tenant is responsible for trash and electric charges. Charge for water & sewer may be higher for some business types based on actual water consumption. The advertised rental rate reflects a $75/mo discount for paying rent via ACH / wire transfer on the first of the month.
The building at 2755 Chippewa has undergone a full renovation. From the ground up, every element of each unit has been re-built resulting in a unique blend of modern amenities in a historic space. Learn more about the project here!
Amenities
Hardwood Floors
Tile Floors
Energy Efficient Thermal Windows
Accessible Unit
Central Air Conditioning
Forced Air Heat
All Electric Unit