$745/mo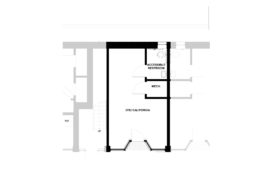 VIEW FLOOR PLAN
PROPERTY DESCRIPTION
Polished concrete floors set the tone for this small space with a unique mix of modern and historic details. The original wood storefront facade has been re-created with accessibility in mind along with new & improved elements like large transoms, porcelain hexagon tile, marble accents, and insulated glass. There's plenty of room for a small retail operation; hit the ground running with your business in this pre-finished space, no build-out required!
We encourage and give preference to small, independently-owned businesses that cater to a wide range of demographics and will contribute to the eclectic mix of existing small businesses in the area. Due to the historic nature of the renovation, this space is not suitable for use as a bar, restaurant, salon, barbershop, or any other use that would require modification of the existing plumbing plan. Price is $745/month for rent plus $75/month for water & sewer. The advertised rental rate reflects a $75/mo discount for paying rent via ACH / wire transfer on the first of the month.
The building at 2755 Chippewa has undergone a full renovation. From the ground up, every element of each unit has been re-built resulting in a unique blend of modern amenities in a historic space. Learn more about the project here!
Amenities
Concrete Floors
Energy Efficient Thermal Windows
Accessible Unit
Central Air Conditioning
Forced Air Heat
All Electric Unit