$3,000/mo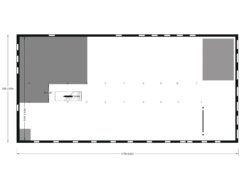 VIEW FLOOR PLAN
PROPERTY DESCRIPTION
If this space looks familiar, it may be because you toasted your neighbors and friends here at Cherokee Street Thanksgiving in years past. Known by the neighborhood as Bomb Door, so-called for its bold yellow-and-black bomb icon entryway, this space could fuel your next creative outlet. Suitable as an art studio, warehouse, or storage (no events – sorry!), this 5,500+/- square feet space offers an abundance of space and flexibility. True to its industrial origins, features include exposed structural components like brick walls and steel beams, while modern additions like a new roof, HVAC, stenciled walls, and custom lighting create a comfortable ambiance well-suited for today's needs. One wide-open room is coupled with an adjoining office and an awkwardly large bathroom complete with a shower.
Neighbors include  Mesa Home, Teatopia, Brandin Vaughn Collection, Cherokee Street Gallery, Saint Louis Hop Shop, Nebula, Morning Glory, Clements Lock & Security, and Fortune Teller Bar (just to name a few!) – all located within a block!
Price is listed at $3,000/month for rent plus $75/month for water and sewer; internet is available for $100/month. Tenant is responsible for trash, gas, and electric charges. Charges for individual utilities may be higher for some business types based on actual utility consumption. The advertised rental rate reflects a $75/mo discount for paying rent via ACH / wire transfer on the first of the month.
Amenities
Live / Work Space
Hardwood Floors
Exposed Brick
Dimmable Lighting
Sound System
Central Air Conditioning
Forced Air Heat
New Roof (<5 Years)