$1,200/mo
Access
Key Fob & Mobile, 24/7
Internet
Dedicated Fiber Connection
Access to Nebula
Included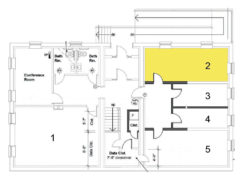 VIEW FLOOR PLAN
PROPERTY DESCRIPTION
Want to establish your new or growing business in a historic building without sacrificing the needs of a modern workplace? Look no further! The Schoolhouse building celebrates its 130+ year history by merging old with new. Adjacent to its companion former church, Treffpunkt, it was originally laid out as four classrooms (two per floor). The building was transformed in 2016 into 13 private offices, but with the carefully matched woodwork, handmade doors (produced right on Cherokee!), and classic light fixtures, you'd never suspect the space wasn't designed this way from day one. Although the jig is up when you use an app on your phone to unlock the front door!
Offices range in size from under 100 to over 400 square feet and are suitable for anywhere from one to ten people, depending on the space. Pricing is inclusive of coffee, mailbox, notary services, and common area cleaning, as well as use of the print center, conference room, and everything that Nebula has to offer – additional call & conference rooms, open workspaces, invitations to members-only events, and more. Offices on the main level are ADA-compliant, as is the first-floor conference room. The building is pet-friendly! Boost your mood by bringing your canine companion to work. And outdoor workspace in the expansive courtyard is coming in 2022!
Tenants here have ranged from marketing companies and artists to architects and telecommunications specialists. Today, the building is occupied by several small businesses and entrepreneurs, and – yours truly – the South Side Spaces team.
We encourage and give preference to small, independently-owned businesses that cater to a wide range of demographics and will contribute to the eclectic mix of existing small businesses in the area. As the building does not have a dedicated receptionist or receiving area, offices are not suitable for use by those who receive a high volume of visitors, clients, or patients, such as medical service providers or staffing companies.
Office #2 is located on the first floor and is roomy enough for up to six people. Its south & west-facing windows overlook the courtyard and adjacent church, with close proximity to the conference room and building entrance. Price is $1,200/month for rent plus $90/month for water, sewer, trash, internet, access control, stocking & cleaning of common areas & restrooms, electric, and gas. The advertised rental rate reflects a $75/mo discount for paying rent via ACH / wire transfer on the first of the month.
Amenities
Hardwood Floors
Accessible Unit
Central Air Conditioning
Forced Air Heat
Bike Storage
Outdoor Space
Pet Friendly
Secured Entry / Access
Off Street Parking
Restroom Facilities
Kitchenette