$1,250/mo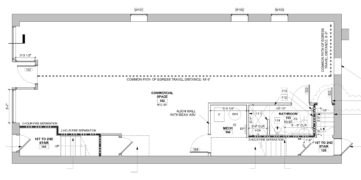 VIEW FLOOR PLAN
PROPERTY DESCRIPTION
Be the first to occupy this newly finished storefront on a burgeoning commercial corridor! The building has been renovated from the ground up, culminating in one residential and one commercial space. Expand your new business or relocate your existing one in this fully-equipped space with new everything: HVAC, electrical, plumbing, historic storefront, tuckpointing, roof, and more. Outfitted with a shower, this space is also suitable for live/work arrangements. Cut costs by consolidating your home and office/studio into one central location, perfect for artists and small business owners alike. The building's off-street parking and backyard are reserved for the residential tenant, but the adjacent City-owned lot at 2801 Chippewa provides plenty of free parking for employees or customers.
We encourage and give preference to small, independently-owned businesses that cater to a wide range of demographics and will contribute to the eclectic mix of existing small businesses in the area. We don't rent to predatory businesses such as rent-to-own or payday lending stores that prey upon low-income populations. Additionally, we discourage the use of first-floor storefronts in commercial corridors for service-oriented or office-type businesses, which are better suited to side streets or second-floor office spaces as they do not benefit from or contribute to an increase in foot traffic that is vital to retail and restaurant businesses.
Price is listed at $1,250/month for rent plus $100/month for water & sewer. Commercial tenants arrange and pay for own trash service; electric is paid directly to the utility provider, Ameren. Standard security deposit is equal to one month's rent subject to credit and application approval. The advertised rental rate reflects a $75/mo discount for paying rent via ACH / wire transfer on the first of the month.
Amenities
Live / Work Space
Concrete Floors
Accessible Unit
Central Air Conditioning
Forced Air Heat
All Electric Unit
New Roof (<5 Years)