$500+/mo
Access
Key Fob & Mobile, 24/7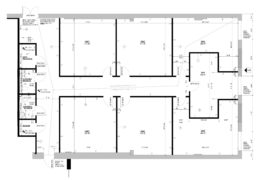 VIEW FLOOR PLAN
PROPERTY DESCRIPTION
The McKinley Studios are the latest addition to the Canyon Run Complex. As an extension to the adjacent studios at 2222 S Jefferson, these spaces will offer comparable services and amenities with all-new everything. The facility has been the home for many local artists' studios, including painters, welders, furniture designers, fashion designers, photographers, musicians, and more. Grow your creative business in a collaborative environment, surrounded by other talented artists!
The renovation will result in seven studios, each with concrete floors and tall ceilings. The building itself will offer communal restrooms, a utility sink, bike storage, and secured entry via mobile credentials. Three of the seven (#003, #004, and #005) will have natural light from the soon-to-be-restored east-facing windows.
Pricing starts at $485/mo plus $95/month for water, sewer, trash, internet, access control, stocking of common area restrooms, and electric.
Amenities
Concrete Floors
Central Air Conditioning
Forced Air Heat
All Electric Unit
Bike Storage
Secured Entry / Access
New Roof (<5 Years)
Restroom Facilities